Happy hump day!! It's all downhill to Friday from here! Holla!!
How's your week going so far? Mine is pretty good! I actually got a little bit of sleep last night - still not enough and Jules was up once around 1am, however it's better than it has been!
Today I'm going to do another round of What it is Wednesday and then tomorrow I'll post a deep Topic Thursday of some sort (I have to alliterate in my titles...can't help it...sorry, not sorry).
First and foremost...
Don't mind his goober face on the right (he was half asleep), can we marvel at how much he has grown and how BIG he is now?!? If you look at where his ears are on the door, he has seriously grown like 4 inches. I can't handle it...time can slow down now. They aren't even kidding when they say you need to cherish the time you have because it flies by - I have an 8th grader. It's been several years since he has asked me to pick him up (and since I've been able to physically hold him since he's way bigger than me now). Before I know it, he will be in college somewhere eating pizza all day every day and never putting pants on...which honestly isn't that much different than where we are now.
So the entire point of this is, do try to cherish the time you have with your kids because it does fly by and they're all grown up before you know it. Even when they're being assholes, because let's be real...kids are assholes a lot of the time (you know it's true).
Mirror update...it is CLEAN!
I deep cleaned the entire bathroom this weekend and organized some crap and it looks so great. And I can see myself in the mirror without any embarrassing stuff all over it. I mean, I didn't really care all that much, but it was kind of gross.
Guess what my first thought was when I saw this picture my husband took of Jules and I playing at the splash pad? "Uuuugggghhhh...why is my stomach so pushy-outy, I look so..." and then I stopped myself and thought (1) look at how happy Jules and you both are!! (2) Jason actually took a picture of you so stop your bitching and post the damn picture!
Also my hamstrings look awesome, so shut up critical inner voice!
More splash pad fun...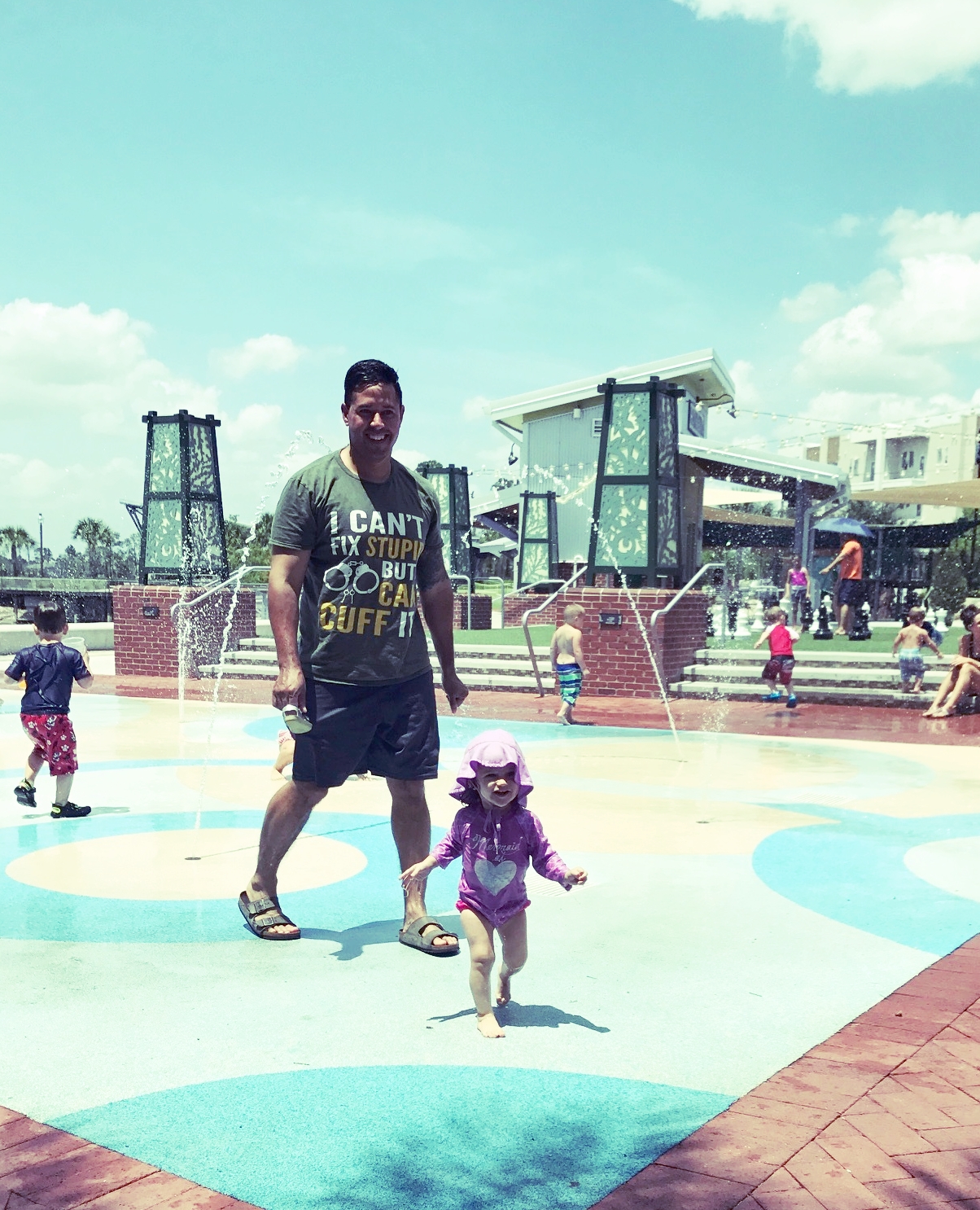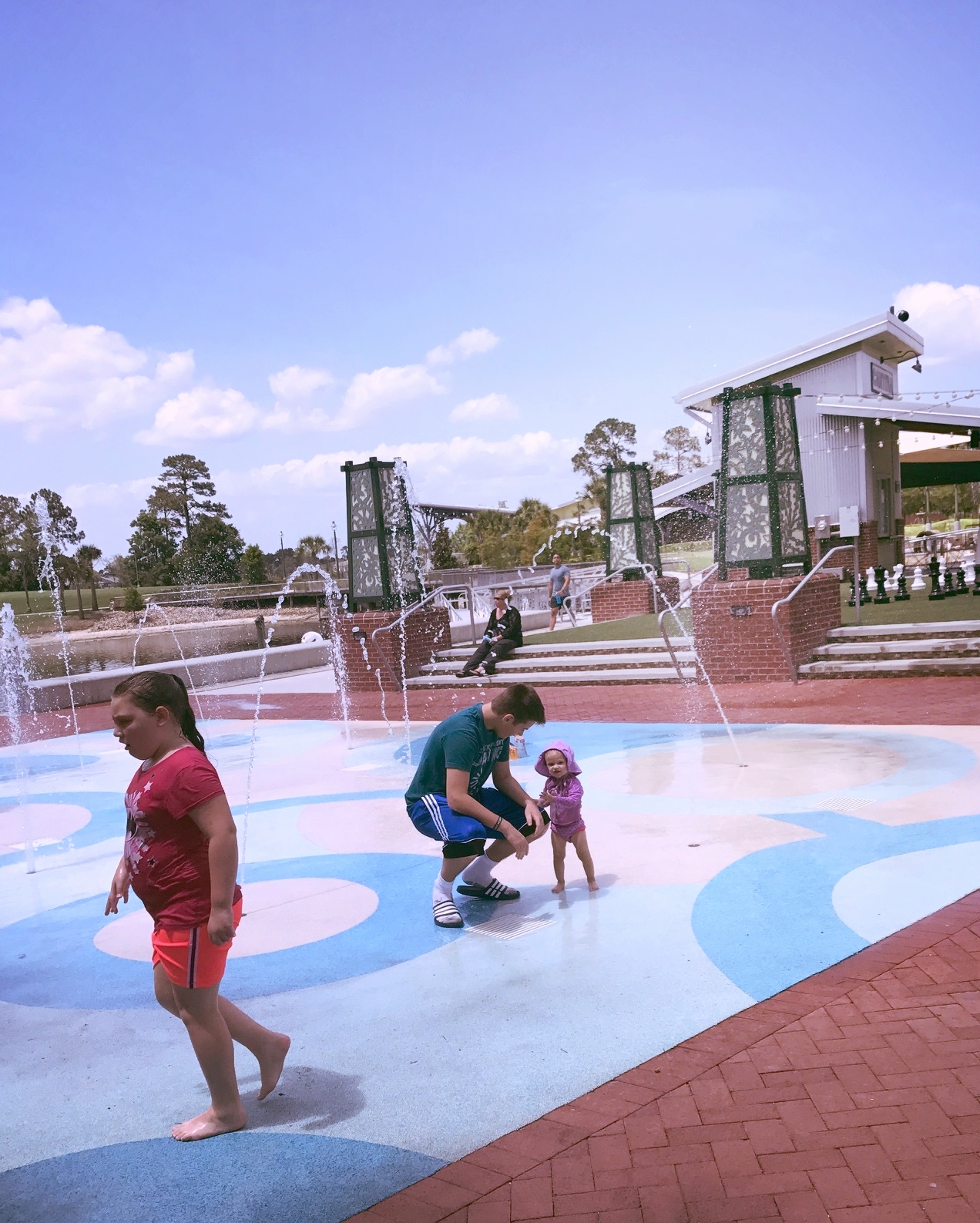 Such great pictures of all of them <3
Jules is walking so much better - she still has a limp that I am calling her pimp walk...judge away. But she's able to pretty much run now and is obviously loving having her mobility back.
She even got to walk her dog this weekend, which made all of us happy...except Jax. He's not really a fan, but he tolerates it. He's become even more tolerant since he's figured out Jules will feed him anything she's eating if he's patient and sits next to her. Smart dog!
No filter necessary for the sunrise during my run yesterday. Seriously makes getting up worth it!
This picture was taken on Sunday. It's super cute, right? Now scroll up and look at the first picture I posted from Justin's last day of school on Friday...same shirt. I'm 99% sure he wore it the entire weekend and I'm also 99% sure those are the same pants.
Teenagers are so gross.
This picture is still cute though.
Jason worked extra duty at MegaCon this weekend, which is a huge comic book/tv show/movie/nerd fest and he was able to get us some free tickets so we went for a little bit on Saturday. First off, I saw some famous people from across the room - so cool (it's the simple things for me). Also I was pretty impressed by the amount of dedication these people have for their costumes and it makes me want to come up with a cool cosplay outfit for myself...except I'm lazy and don't care enough to spend that much money on a costume/outfit. HOWEVER we do still have our Halloween costumes from this year and since we'll be up by Massachusetts I think we'll need to go to Salem in October dressed as the Sanderson sisters (from Hocus Pocus) and Marti is totally going to fly up and join us, RIGHT MARTI?!? :-)
Now I have some super fun food/music/tv/movie recommendations, because what would a WIIW post be without those??
Favorite Recipes Right Now
These firecracker meatballs are so effing good. I urge you to plan on making them asap - we've had them 2 or three weeks in a row now and I might make them next week too...that's how good they are. We usually eat them with some white rice and broccoli or whatever your veggie of choice is and I seriously struggle not to get seconds...or thirds. DO IT!
Then I made these chicken thighs last night and MAN they are good! It is a bit of work for a weekday meal, but we ended up having 4 of them leftover so they'll be great for dinner tonight too. Of course I served them with white rice and sauteed some zucchini and summer squash for sides. Yummmmmmmm. And super cheap too; since the recipe calls for skin and bone-in chicken thighs they were only $0.99/pound at Aldi.
Favorite Songs Right Now
I'm still obsessed with that Ra Ra Riot song I talked about in an earlier post - pretty sure I listen to it every day. Then I'm also still into the Hamilton soundtrack and have been jamming to that as well (when I say jamming I mean bopping in my car with jazz hands and faking like I can sing). However I also have some new favorites that I'm just going to admit to and get it over with...
Malibu by Miley Cyrus
The Cure by Lady Gaga
Sweet Creature by Harry Styles
So yep...that pop explosion just happened. I do find that I go in waves with the music I'm listening to based on the weather/time of the year. Here's how it usually goes...
January - early March: crazy, ratchet rap music. I need to get crunk after listening to Christmas music for a month and a half or so
March - May: I always go through a Dave Matthews phase when the weather starts warming up and lots and lots of alt rock
May - August: Summer always calls for lots of pop music, classic rock, and random musicals for road trips
September - October: I usually go back to alt rock/classic rock with some seriously hard rock/metal throw in for whatever race I'm training for. I love running to Slipknot.
November - December: All Christmas music, all the time. Not even kidding - ask my husband. He loves it. When I say I'm basic, I mean I'm basic.
Moving onto my favorite show right now...
I realize I'm super late to the game on this, but I've been binge-watching Girls for the past month or so and I really like it. However it makes me cringe constantly. I'm pretty sure that's the entire point of the show, but I literally cringe several times each episode.
Finally, what I'm still all about right now...
No, not my disgusting and messy car...I'm talking about the empty carseat with my purse in the back. I'm still 100% putting my purse in the back whenever I put Jules in the car so I always have to walk around and grab it. In doing so, I ensure that I will never leave her in her carseat on accident. This is super simple, but I urge you to adopt something similar if you have a kid(s) in carseats so we can prevent any further tragedies with the hot weather this summer.
So now I want to know some stuff about you! Do you go through random phases with your music? One music I never go through phases with is country - I can't stand it. I mean, I liked the Dixie Chicks in high school like every other chick who graduated in 2001, but everything else country is so not my jam. Also have you watched Girls and does it make you cringe as much as me? Hannah is just sooooooooo cringe-y and entitled and it drives me insane.
I hope your hump day is humptastic!!