Hi friends!
First, if you're not receiving emails about new blog posts they're probably going to your junk folder. So fix that, please.
In honor of Dr. Suess' birthday being last week, I thought I'd pilfer the title of one of his books and turn it into a blog post, because why not?! I do what I want!
In health related news, Jason and I still feel like we're dying. He went to work last night and worked a 12 hour shift as a cop, so regardless of how crappy I felt this morning I knew I was going to have to roll my booty out of bed and get to work. Hopefully we both start feeling better soon because I hate this. I haven't worked out in two days and I'm probably going to lose my ish if I don't get better soon! So send some get better wishes our way, but don't breath our air or else you'll be afflicted with the plague yourself.
Onto happier topics...TRAVEL!! I love to travel and seriously need to consider playing the lottery so I can be a millionaire and travel like it's my job. Being middle class sucks because it's hard to afford travel more than every other year to some place super cool and maybe once a year to places that aren't so cool (but I'm a snob, so Florida just isn't that cool to me). Hawaii = cool. Chicago = not so cool. And death. Because Chicago is a war zone right now. But I digress. BACK TO THE TOPIC AT HAND (my sick brain is not working well right now, so expect a lot of tangents). Here are some of the places I'd like to go starting with places I haven't been yet.
Puerto Rico
My husband's family is Puerto Rican so you tell me why I haven't been there yet? We don't need passports, it has mountains and beaches which means I can hike and snorkel all in one day, AND we have family there that we can visit. So I'm hoping we'll be able to cross this trip off the list sooner rather than later. Hint, hint. Nudge, nudge. Cough, cough.
Greece
I have wanted to go to Greece ever since I was a preteen and read the book The Immortal by Christopher Pike. Does anyone else remember that book? Chick goes to Greece, is connected to the Gods somehow, dies because someone puts ground up GLASS in her food? Just me? Well I loved that book and knew I needed to go to Mykonos at some point in my life after reading it. So I'm just putting it out there using the Secret. Actually I don't know anything about the Secret, but my husband says he uses it whenever we go the store and get an awesome parking spot, so it obviously works. Try it. I think you just say you are going to do something and then it happens. Or something. Greece, here we come!
Key West
This is just a short 7-8 hour drive down the road...why haven't we gone here yet? I need to walk down Duval Street and snorkel in John Pennekamp State Park and do all the things, drink all the drinks, and eat all the foods. While we're in Key West we have to take a boat trip to my next place I have to go...
Which is the Dry Tortugas National Park. This is a super cool snorkeling and diving spot that is just 70 miles west of Key West. It's only accessible by boat and maybe sea plane, but the coral and underwater life is supposed to be out of this world amazing. There aren't any facilities there, so you have to bring everything you'll need for the day, but this is something I have to do before I die. You can also camp there, which could be cool for a day or two, but it's super isolated and I'd probably have a panic attack due to not being able to get Starbucks after a day or two #firstworldproblems
Norway
Anyone who knows me knows that I'm a pretty proud Norwegian. My Gran came to America from Norway after WW2 (after a brief stopover in England, I believe) and she always kept a lot of the Norwegian traditions alive for us. We'd have an amazing Christmas Eve dinner every year with the traditional foods (and GLOGG) and we loved running around the backyard naked when we were kids - they aren't so crazy about nudity over there, which I fully agree with. When I was between 8th and 9th grade my Gran and Granther took my brother and I to Denmark and Norway for the entire summer, and it was absolutely amazing. The food, drinks, scenery, people, midsummer celebrations...everything in that place is magical and beautiful and happy. I very distinctly remember dancing on a dock in the middle of a fjord at 10pm because it's still light out, surrounded by family and jellyfish, eating hot dogs in these crazy tortilla things, and being the happiest I'd ever been in my life, at least up to that point. Since then I've promised myself I'll go back and visit again one summer and hopefully get to take my husband and kids as well.
Alaska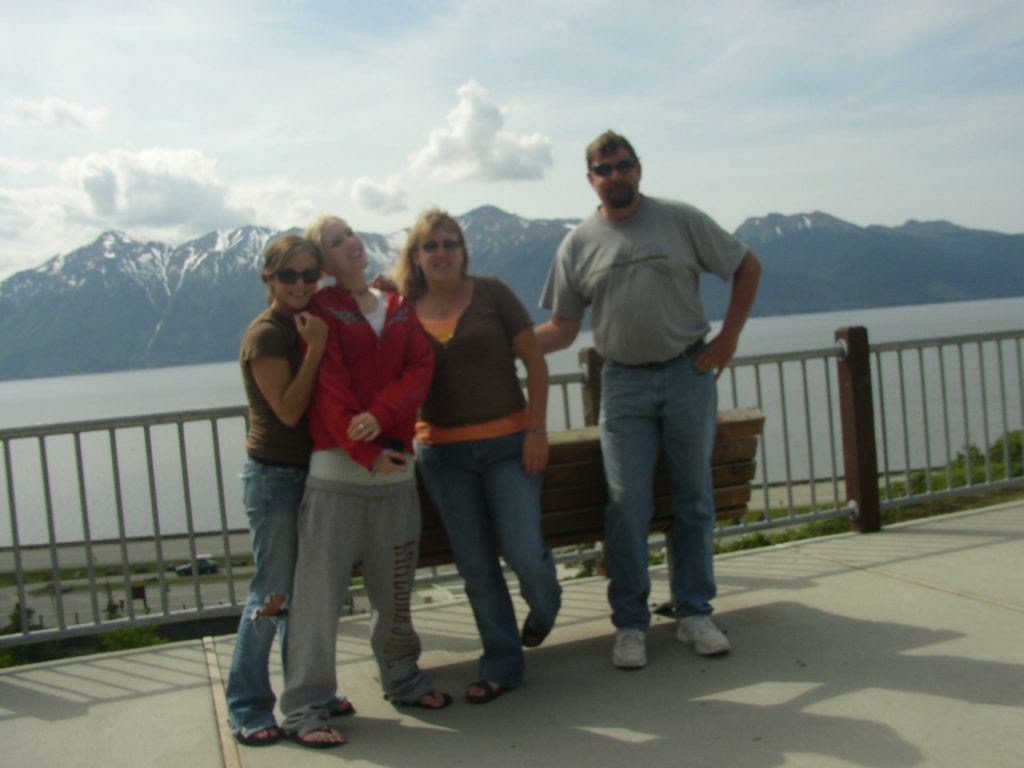 I spent 4 years of my life in Alaska and Justin was born there. We have to go back. I still think Alaska is one of the most beautiful places on Earth and I encourage everyone to go there at least once in the summer and once in the winter. During the summer you can go hiking, white-water rafting, ATV'ing, swimming (yes, seriously), hunting if you're into that, fishing if you're into that, etc. There's so much to do. Even in the winter you are constantly busy skiing/snowboarding, snowmobiling, hunting, fishing, eating, looking at the Northern Lights, etc. The bars, beer, and food are beyond amazing there #moosestoothisthebestpizzaonearth. I hope to take the entire family there before Justin graduates from either high school or college. I'll probably do an entire post on Alaska soon, since the pictures above don't even crack the surface of that amazing state. I also plan on doing an entire post on my next place I have to go...
Hawaii
I went to Hawaii in September and now Hawaii has my heart. I have never been to a place other than Alaska where I would say "oh my gosh that's beautiful" every single time I'd turn around. As with Alaska, I will do an entire post on Hawaii soon so I'm not going to say much here, but let's just say if you haven't gone there, you need to go. Just do it. Stop thinking and go. Take out a second mortgage on your home first, THEN go so you can afford it because it's super expensive. The End.
Now that's just a small number of the places I have to go. That doesn't include roadtripping the entire west of the country with the family, Disneyland vacation, Maine (especially Acadia National Park), Vermont to go skiing, Massachusetts in the fall, lake vacation in the Ozarks somewhere with the family, Colorado skiing vacation, Bermuda, London, Asia (Japan and Vietnam for starters), New Zealand, the Maldives...I could seriously go on and on.
How about you? Any must-travel places for you?